---
Provide Your Pet With An Effective Gentle Massage When Showering And Help Improve Its Blood Circulation!
Did you know that the general condition of your pet's coat is a good indicator of it's health? But, although from the inside, it's health and nutrition that influence the luster and texture of your pet's coat, on the outside, regular grooming will help it clean and free of tangles. Give your pet's coat a thorough brushing while shampooing simultaneously with our Pet Shampoo Brush!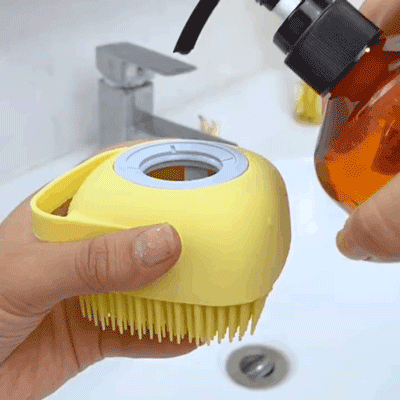 With 2-in-1 design, our Pet Shampoo Brush dispenses the right amount of shampoo while brushing your pet's coat at the same time. This Pet Shampoo Brush not only can provide a quick and all-round thorough washing of your pets, but also eliminate shower clutters. And the non-slip ring hand grip design offers you a comfortable grasp, making grooming time a comfortable experience for you and your pet.
Pet bathing brush & shampoo dispenser in one- The brush is equipped with a shampoo compartment/dispenser that dispenses the right amount of shampoo every time.

Safe, gentle brush For pet's sensitive skin- Provides your pet an effective and gentle massage which helps in improving its blood circulation. 

High Quality Soft Silicone Material- Made of 100% high grade and odorless silicone bristles, with no harmful toxins or contaminants that can harm your pet's skin

Easy to use for different pets and shampoo- Works great on dogs and cats with all sizes no matter what type of hair coat they have. The shampoo dispenser adapts all kinds of liquid. With the 2.7fl.oz/80ml capacity, you can wash multiple pets at once.