---
Every Jewel deserves the best, So why not Give it?
The MarbellaEssentials - Jewelry Box makes keeping your jewelry safe and convenient, whether on the go or just in one place. Our Vegan Jewelry Box is perfect to keep your favorite pieces tangle-free and scratch-proof. It features removable compartments that can be customized to keep your collection organized. The box itself is small enough to carry in your handbag or tuck away in a drawer for easy access. Keep your jewelry safe and organized wherever you go. And avoid the tangles, the damages, and misplacing forever!
Vegan Leather
You can look great knowing no living thing was harmed while making your bag. And for those of you who are interested in what Vegan Leather is. It's made from innovative and sustainable materials such as pineapple leaves, cork, apple peels, and recycled plastic. Making it both eco-friendly and beautiful. 
Removable Interior Compartments
With removable compartments, mounds for earrings and rings, necklace hooks and an elastic pocket, these jewelry boxes got you organized.
Designed For Functionality
The Jewelry Box is highly functional, and was thoughtfully designed to carefully organize each of your essential jewelry pieces when you're on-the-go. With necklace hooks, ring/ earring mounds, an elastic pocket and interior compartments, you can travel knowing that all your jewelry is stored beautifully and tangle-free. The soft, suede interior keeps your jewelry safe and scratch-free.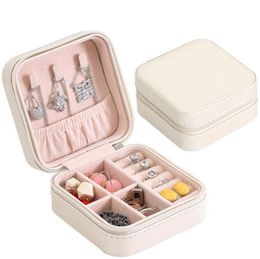 What's Included: 
1 x MarbellaEssentials - Jewelry Box